I love Christmas. I love the lights and the decorating and the gifts and I even love shopping. Wifey and I decorate our place inside but not out. This year looks like a big
LED tree downstairs and a small pre-lit upstairs. I shun natural trees. Fire hazards that were doing a lovely job producing oxygen until someone took an axe to them.The ornaments expand by one or two every year. Rarely shrink. The movies and the dvr'd holiday specials pile up as well. Every year I think at the end of November that I will make a dent in the pile rewatching this year. Every year I start 10 days out from the big day and I'm lucky to get through A Christmas Carol and Charlie Brown, let alone the Bradys and the Flintstones.
And yet I can't seem to part with them. Perhaps simple nostalgia. Perhaps it is that dread of the years where Christmas was a lonely time for me. I had a few bad years and those Christmas specials, books and decorations were like main-lining the Christmas spirit. Ramping up for the most wonderful time.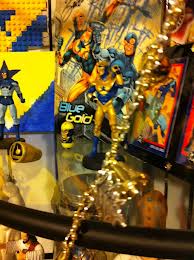 Christmas isn't a lonely time for me now. My wifey loves it too and we have a great holiday week of walks in the snow and watching all of the series that have piled up on the dvr over the fall (Dexter is always watched in a fest, never week-to-week). What is this Holiday Emergency Kit for then? A safety blanket of Christmas cheer in case I get a bit low?
More things I don't need, as I look over them. The decorations will get filtered this year. Any that don't make the tree are making a trip to eBay. And that superfluous tree is destined for a donation bin. I only read one book every Christmas, Dickens' classic tale of redemption and the value of those around us. The other books would do well making someone else's holiday magical.
I have holiday spirit to spare, time to pass along a bit of the jumpstart kit to someone who needs it.
*
What is it about books based on TV shows and movies? I know why I have the shows, but the episode guides are some of the strangest items I've identified in my accumulation. What is stranger, I know I shouldn't get these books and I've purged myself of them before. And yet here they are. I have the hardcover script book for Charlie Brown's Christmas. I have a guide to the first season of Lost ("man, are they ever going to explain that polar bear?!"). Also 24, Family Guy, Dr Katz … seriously, why are these here? Why would I ever need to reference a plot summary of season 2 episode 4 of The Tick while the internet is completely non-functional?
All into the pile. Not surprisingly, very little resale value in these bad boys.
*
A successful day on eBay. I put up the Illuminati cards I mentioned in last week's post. They went for a handsome sum within minutes. My old iphone went within an hour as well. A good amount of points on the board when it comes to getting that pesky credit card-shaped sword to stop hanging over my head (to mix several metaphors). I have an extra week of vacation coming up so it will be a focused time of sorting, selling and purging. I am working at getting everything out the door, a trip to a used bookstore is certainly going to thin the pile. I've catalogued over 300 of the 900 Things so far. I am hoping that get that number to the halfway mark by the end of the year.