Booster Gold just faded away.
But he'll be back. Or he won't. And that's ok.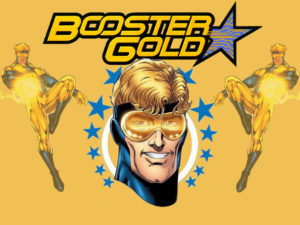 I'm about to type the most controversial words I've yet put on this site. Words that I have feared to put on Twitter or say on the podcast.
I don't care about Stephanie Brown.
Hear me out! I don't hate Stephanie. I'm sure she's great. I don't care because I had never read a story with her when the New 52 was launched and she wasn't included. I've read a couple since but still have no emotional attachment, any more than I was attached to Kamandi when he vanished in Crisis on Infinite Earths. The first time I heard her name was in the context of "…has been retconned out."
I don't care about Steph, but I am thrilled if you do. Tell me your favourite character is Batman and the conversation will move on to movies. Tell me your favourite is Steph or Cass or Vibe or Wildcat and we're talking comics all night.
I also don't care about Cass. Or really Wally, come to think of it. Or Omac, who reappeared instead of disappeared. I love love love Ted Kord, but I'm actually fine that he has disappeared into the limbo of comics.
Booster is my favourite character ever. Steph has been retconned out, but there are people who actively hate Booster (fools). I've rarely encountered anyone who hates Steph.
I was rereading Grant Morrison's Animal Man today and it reminded me, as so much has this past year, of the post-Crisis era. The changes to New 52 are laughably minor compared to Crisis. You mailed waffles after a year of Steph-less DC, Kara Zor-El Supergirl was gone 17 years! Some have never returned.
And that's ok.
In Morrison's Animal Man, Buddy discovers that he and everyone around him lives inside a comic book. The third trade paperback of that run should be required reading of anyone still feeling anger about the New 52 (including my good pal and co-host Mo). Morrison writes a catharsis of the post-Crisis anger, and believe me and the old guys, anger there was. The JSA were relegated to the history books, gone were the infinite Earths and the adventures thereon. Gone were Superboy, Supergirl and Krypto. Nonsense were the origins of Black Canary, Huntress, Power Girl, the Legion of Super-Heroes and oh so many others.
But that was what started me reading. The elimination of all that baggage made me a monthly DC reader for 15 years. I drifted away though, but returned when word of just such a reboot on the horizon. One of the stated goals of the New 52 reboot was to bring back the 90s readers who had wandered away. Me. They wanted me. And I'm back.
Though I wish I could make each of you stop and read Morrison's Animal Man, I'll just insert a few panels that fit the conversation.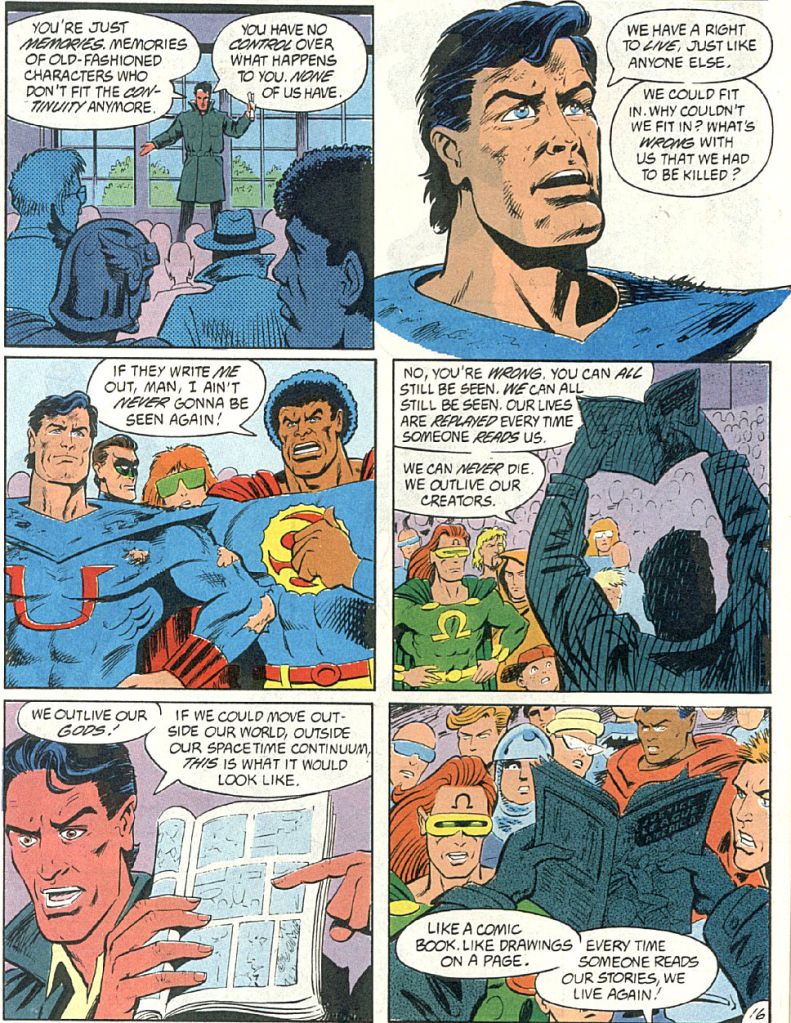 Morrison's Psycho Pirate, the only character who remembered the pre-Crisis continuity, becomes the voice of the reader who is angry over the reboot. He carries all of those worlds in his head and wants to remake it all. But the time has passed. And that's ok.
Morrison has Buddy go through Comic Book Limbo, where all of the characters go that no one is using. When a new idea comes along, they get to leave and live again. A quick peak at the characters Morrison thought in 1989 would be gone forever is quite telling. You'll see Jemm, Mr Freeze, Captain Carrot, and the Space Canine Control Agents. All of whom have made big or small returns (except the Space Canine Control Agents, I mean, c'mon). They mention in passing that B'wana Beast just got a surprise trip out. He appeared in Morrison's Animal Man.
I can remember clearly getting so angry every time there was rumour of undoing Crisis. "The post-Crisis world is mine, you had your time", teenage me thought. I hope very much that there is a teenager today thinking the same thing whenever someone talks about the increasingly remote possibility of undoing the New 52 reboot. I want them angry. If they are angry it's because it is theirs. They own it. I hope I can go along for the ride a bit.
It would be horribly condescending to say "get over it." You won't. I hope when your favourite "benched" character comes back you love what they've done with them. I hope it's like old times (like Booster's title by Johns and Jurgens) and not I-really-wish-you-hadn't (like Booster's time in Extreme Justice).
I don't want you to "get over it," but I do suggest, humbly, politely, respectfully – find something new to love instead of being angry. The New 52 reboot is something that happened. It isn't something that happened to you.
Steph isn't gone. You love her. Her stories exist. And one day someone who loves her will be asked by an editor "do you have any story pitches?" and they'll say "ya, I have an idea for a new version of Stephanie Brown." She'll leave Comic Book Limbo, for a while or for a moment.
Until then, every time you read one of her stories, she lives again.
And that's really ok too.
Keith is the co-host of We Talk Comics and is rereading 52 … featuring Booster Gold. He talks comics new and old on Twitter as CubReporterK.
Grant Morrison's Animal Man is collected in trade paperback as Animal Man vol 1-3 (Animal Man, Origin of the Species and Deus Ex Machina). The first 9 issues (vol 1) are available through Comixology.