or "Actually, It's About Santa in Comics' Journalism"
It's the annual Secret Santa episode of We Talk Comics and it's an all-star cast of comic book pundits, reviewers, and journalists.
Keith, Brett and Chris from We Talk are joined by Matt Santori-Griffith (co-owner of Comicosity.com), Chris Doucher (owner of GeekNerdNet.com), Stephanie Cooke (host of Talking Comics), and Jessica Boyd (host of The Hangout).
All seven of the hosts and guests, with the assistance of a Mo-Tastic Santa, picked a graphic novel, comic, or collection for another one of the crowd to read. We go around the group to talk about what we read and guess the identity of our Secret Santa.
It was an extra challenging guessing game this year as Stephanie is brand new to our crowd and Jessica hasn't been on the show in nearly two years.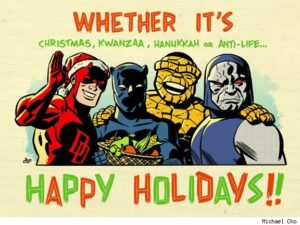 So pour some eggnog, get into that Santa frame of mind, and listen to comic talk as seven of the most well-read comic folks out there discover something new to them.
Three great ways to subscribe to We Talk Comics now.  Try us on iTunes. For those of you looking for an alternative we're now available on Stitcher Radio. You can also check the show out on the versatile TuneIn radio.
And join the We Talk Conversation on Twitter @wetalkpodcasts. Plus give us a like now on Facebook. 
Podcast: Download (Duration: 1:12:28 — 33.2MB) | Embed