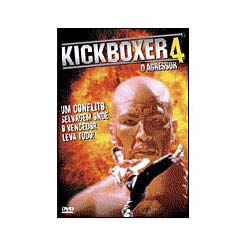 When My We Talk Comics co-host Mo asked me to write a blog for the website I knew exactly what I should blog about, Movies. More specifically about the cross section of movies that intersect with comic books. There is a type of movie that grew out of the pulp tradition that is very similar to a superhero comic. Originally I planned to highlight these movies by linking them to actual comics and comic creators, and I knew exactly where to start… Kickboxer 4: the Aggressor. Why? Because Albert Pyun's a comic book pariah and the movie director who thought an Italian Red Skull was an acceptable idea. Also because the film is just whacked out bad movie fun. It was written by David Goyer so it could tie in to the release of the new batman film, perfect. Plans often go awry though and so it was with this one. The problem is Goyer (never trust the internet) didn't write Kickboxer 4, he wrote Kickboxer 2: The Road Back, which was also directed by Albert Pyun but nowhere near as much fun. So here I am all excited to blog about this crazy movie and I have no way to link it back to comic books, a necessary step to file this blog under the We Talk Comics banner. Luckily, the other Wetalkers had some ideas for podcast specials and blogs that also linked to movies, and thus We Talk Movies is born.
I think a brief history of the mad genius that is Albert Pyun is in order. Before Uwe Boll's name was cursed across the internet as the worst movie director of all time there was a man, a man that made all of Uwe's directorial sins seem relatively forgivable. This man is responsible for some of the strangest decisions in cinematic history. His movies include among others Brain Smasher … a love story, Nemesis 1 thru 4, as well as the afore mentioned 1990 Captain America movie. Albert Pyun should have been a good movie director; he started early in Hawaii making super 8 films, then he moved to Japan where he befriended Toshirô Mifune (star of Lone wolf and Cub). This friendship leads to an apprenticeship with Akira Kurosawa (the Seven Samurai, Hidden Fortress). These relationships as well as the general bizarreness of the man's films created my fascination with him and his films.
I hold no illusions that the Kickboxer series of films were supposed to be good. In fact I feel at best they should be held up as examples of brainless 80's action films, but Kickboxer 4 has some truly inexplicable moments that should be explored. The story picks off several years after the events of the last film, our hero of Kickboxer 2 thru 4, David Sloan (Sasha Mitchell), has been framed and imprisoned for a murder he did not commit, and his wife kidnapped by the deadly Tong Po who was the villain of all the Kickboxer movies. Hell of a first 4 minutes for any movie. Tong Po in this movie is played by Kamel Krifain the worst asian make up since Peter Lorre played Mr.Motto.

Kickboxer Tong Po                               Kickboxer 4: The Aggressor Tong Po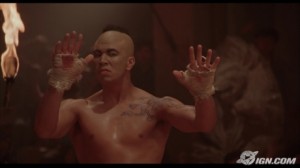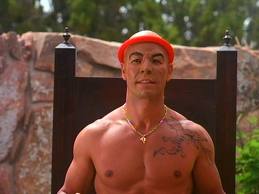 While David Sloan rots in prison Tong Po, the honor bound fighter of the first 3 films has become a Mexican drug lord who holds a yearly marital arts tournament. In order to infiltrate Tong Po's compound the DEA frees David Sloan. Sloan is never really instructed what the DEA wants him to do once he infiltrates Tong Po's compound but it is made clear that rescuing his wife is secondary to his mission. To help with that mission Sloan is given a new identity because if it was to be discovered that he's there to free his wife she would pay the consequences.
David Sloan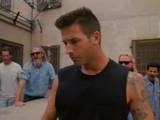 David Sloan Undercover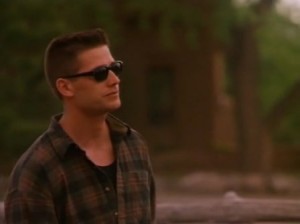 Our hero hitchhikes in to Mexico. Along the way he befriends a young girl also hoping to enter Tong Po's tournament. Luckily Sloan's disguise is enough to fool Tong Po (a man who was obsessed enough with Sloan to frame him, then kidnap his wife and kill his bothers) long enough to enter the tournament. The rest of the movie plays out how it should and I don't want to wreck the fun, so watch this film if any of this bat shit crazy appeals to you. Kickboxer 4: The Aggressor is playing on Netflix instant and is available in several budget DVD packs. Chris O-U-T.