Keith and Brett sit down with some cold beverages and empty notepads to talk to writer Matthew Sturges about his new projects with Devil's Due / 1First Comics.
What starts as a chat about Sturges' & John Lucas' up-coming graphic novel The Four Norsemen of the Apocalypse transforms into an inspection of the creative impulse and the loss of faith.
Also, lots and lots of laughs!
We also talk about Matthew's past work including Jack of Fables, and what is the same and different about working on monthly super-hero comics vs an editor-less creator-owned graphic novel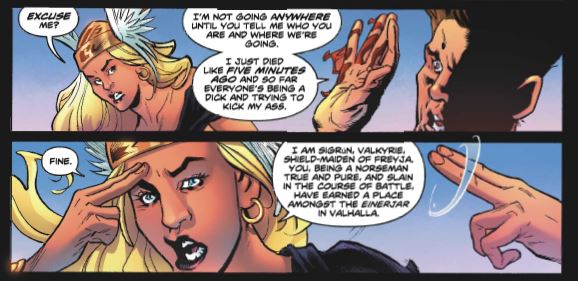 When ace fighter pilot Bendix 'Falcon' Falk dies in Afghanistan, he finds himself transported to Valhalla. Which seems cool until he learns that there are no girls and you die every day. Breaking out with the help of three other dead Norsemen, Falk soon runs afoul of gods, demons, and Bendix' own dead father. Can four dead guys save the Universe? Probably not, but it's fun to watch them try. Narrated by God (really!).
Just a note that there is the odd curse word in this episode. After all, as Keith tells Matthew, "this ain't f***ing Word Balloon."
Pre-order The Four Norsemen of the Apocalypse now! And check out Matthew Sturges's on-going series, Public Relations, both from 1First Comics.
Three great ways to subscribe to We Talk Comics now.  Try us on iTunes. For those of you looking for an alternative we're now available on Stitcher Radio. You can also check the show out on the versatile TuneIn radio.
And join the We Talk Conversation on Twitter @wetalkpodcasts. Plus give us a like now on Facebook and visit our show sponsor 

COMIC

OSITY

 
And check out Panel One to keep up to date about Calgary Comic creators and their friends.
(Warning – Explicit Language)
Podcast: Download (Duration: 1:03:59 — 87.9MB) | Embed