Brett and Mo are back and so are their unfiltered and unbiased opinions. With Def Leppard on tour with Tesla and Poison it seemed like a good time to compare the 3 bands, so Bret and Mo took the covers album each of them did and gave their thoughts, Check it out!
First a little about the grading. 1-4 is a poor song with varying degrees of success. 5 is a solid song with nothing special. 6 is a good song with nothing special. 7 is a good song with a bit extra. 8 is a really good song. 9 is an amazing song that just kills. 10 is one of the best songs ever recorded.
Poison – Poison'd
Originally by Sweet – Little Willy (1973)
B – I could talk all day about Bret Michaels' voice and not in a good way. The key for Poison is to make a song fun, this was passable. 5/10
M – It certainly doesn't hurt that I love this song to begin with. This version's slightly faster than the original & kicks it into gear at the end, giving Poison their own stamp on it. Really works for me. 7/10
Originally by David Bowie – Suffragette City (1972)
B – It's got more energy then Little Willy does. A great song, and a faithful version. 6/10
M – Again it's another great song, so it would be impossible for it not to be good. This one though is being compared by me not only to the original, but to a superior re-interpretation by Warrant on their Under the Influence covers album.  L.A. Guns & Vixen also did it. This brings nothing new to the table. 4/10
Originally by Alice Cooper – I Never Cry (1976)
B – Bret is straining his voice to make this sound good, but it has a country-tinged ballad feel that works for both his voice and the song. I like it a lot. 8.5/10
M – Like Bret Michaels the original singer of I'll Never Cry will never be accused of having the best voice in the world, but never have I appreciated him more than on Poison's version of this song. Lacking any of the character or emotion of the original this is one of the most uninspired and boring covers I can recall. 1.5/10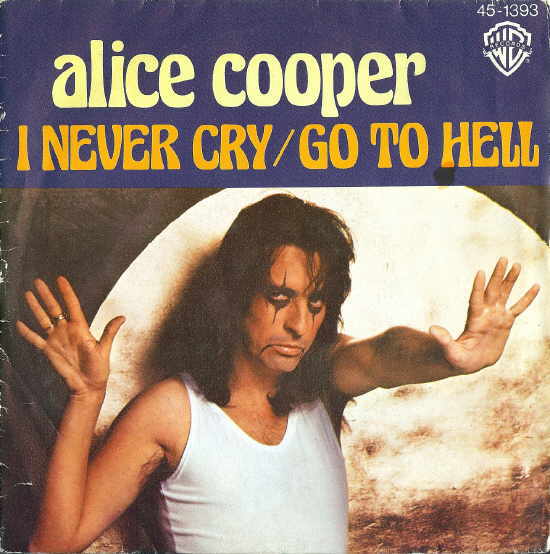 Originally by Tom Petty and the Heartbreakers – I Need to Know (1978)
B – Poison will never be known for being the best at anything musically, and this version works in that way. It sounds kind of a mess, but it gives a certain energy to the song. 7/10
M – This just isn't how you cover a Tom Petty song. Again, if you want me to listen to a covers album give me something that feels fresh, like S.O.T.U. did with their power punk rendition of American Girl. This is just so bland. 2.5/10
Originally by The Marshall Tucker Band – Can't You See (1973)
B – Sounds exactly like a song that would have been on Flesh & Blood. A fine song, if nothing ground-breaking here. 6/10
M – While it lacks some of the earnest emotion of the Marshal Tucker Band version this at least feels like a song Poison might have written themselves back in the day. A nice fit. 6.5/10
Originally by The Romantics What I Like About You (1980)
B – Faithful to the original. Definitely sounds like Poison. It has some energy, but it still doesn't connect for me. 6/10
M – Speaking of fits, this one is interesting. It's a fun upbeat song, which should be right up Poison's alley. But what made it stand out was singer Wally Palmer's uniqueness, which Bret Michaels doesn't have… I'm beginning to sense a pattern. 5.5/10
Originally by The Rolling Stones – Dead Flowers (1971)
B – Bret seems to have developed a fondness for Country music. If you like the way that Bret sings country music then you'll like this song. I think it sounds like a lot of stuff on the album. 6.5/10
M – I thought maybe the country tinge this song has would play to Bret Michaels strengths, but instead of sounding like him it sounds like he's trying to be Mick Jagger, and a poor man's version of that. Good song though. 4/10
Originally by The Cars – Just What I Needed (1978)
B – This is definitely a song that Poison has made their own. That doesn't make it better than the original, but at least they tried. 7/10
M – If I had to hear someone other than original vocalist Benjamin Orr sing this it would be his band mate Ric Ocasek, since they virtually sound the same anyway. But this is a harder edged version of the song, and Bret Michaels doesn't force it, and I liked it. 7/10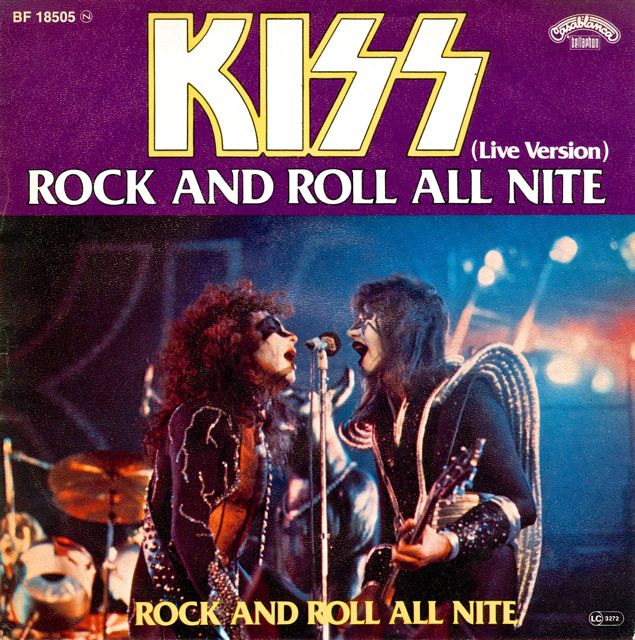 Originally by KISS – Rock and Roll All Nite (1975)
B – This sounds like it could have been on Open Up and Say Ahhh. It totally captures the spirit of the original which is the important thing. Poison should have fun with their music. 7/10
M – This is just a natural. One of the most recognizable songs by an iconic 70's party rock act done by the band that arguably grabbed the torch from them more than any other. Pretty much perfect. 8/10
Originally by The Who – Squeeze Box (1975)
B – The vocals are a stretch; the song is nothing special by Poison. I love Poison and I love the Who. I don't love this though. 5/10
M – I was pretty worried that Poison was over reaching by doing music from a band like the Who, whose skill at their individual disciplines was so amazing, but Poison made it work. 7/10
Originally by Jim Croce – You Don't Mess Around with Jim (1972)
B – Pure Poison. This is the kind of cover song they excel at. 7/10
M – Well they certainly didn't try and ape the original, nor did they capture the charm it had. 4.5/10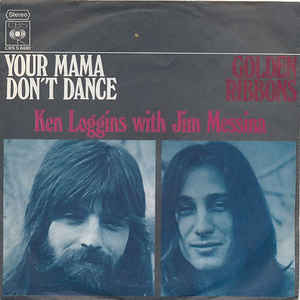 Originally by Loggins and Messina – Your Mama Don't Dance (1972)
B – What can I say about this that hasn't been said before? It's still a live staple for them and it straight up rocks. 8.5/10
M – Come on, this is classic Poison. Captured at their height and perfectly fitting who they are. Better than the original by far it still holds up. 9/10 
Originally by Grand Funk Railroad – We're an American Band (1973)
B – This version is tighter then most of the songs on this album. It's a good song with a shot of Poison. 7/10
M – A faster and perhaps more fun version of Grand Funk Railroad's original while still capturing some of the camaraderie that made that version so memorable, this is well done. 8/10
Originally by Justin Timberlake -Sexyback
B – This is totally out of their comfort zone. It's like Poison electronic/industrial. It's hard because I wouldn't listen to this song on a regular basis but I like what they are trying to do. 7.5/10
M – I appreciate the thought, but this is just odd, no good, and feels like a desperate try for attention by covering a recent song that no one would associate with them. 1/10
Overall Thoughts:
B – This album doesn't stray too far from the source material in most cases which is both good and bad. Bret Michaels isn't the best singer anymore but he puts his best foot forward on a lot of these songs. There are a couple that they could have just left off the album and it would have been a better overall listen, but now that anybody can record a covers album so easily I guess they figure they should put everything on. A solid if unspectacular effort. 6/10
M – I'm going to judge this as if Sexyback wasn't on the album, which is fair, since it was orginally a Wal-Mart exclusive even if it is now part of versions of the album available on streaming services like the one I used to listen.
Regardless it's a wildly inconsistent album that does get stronger as it gets deeper into it, but the song choice seemed to be more on what the band wanted to play than on what sould sound good with them playing, which is understandable.
Most of the time when a song doesn't work it comes down to Bret Michael's inability to get the job done, but who cares. He may not be the best in the studio, but live he's possibly the best frontman of his generation, capturing and controlling the crowd like no other, and that's more important for Poison.
The fact the best song though is still one they recorded more than a quarter of a century though is also telling, and has to be counted as an overall negative honestly. 5.5/10.
Def Leppard – Yeah!
Originally by T. Rex – 20th Century Boy (1973)
B – Def Leppard certainly favours the glam sound of the 70s. They do a nice version of a great song and pull a little switcheroo in it. 7/10
M – Covering a song by T. Rex presents some challenges. Do you emulate their unique sound and style or make it your own? Def Leppard chose the former, doing a version virtually identical to the original. Good song, but why does it exist? 5/10
Originally by David Essex – Rock On (1973)
B – They play this song live on their current tour. It sounds good there and it sounds great here. Excellent version. 8.5/10
M – Rock On – Another song very close to the original, but at least this sounds like something Def Leppard would usually play. 6.5/10
Originally by The Nerves (1976) Popularized by Blondie (1978) – Hanging on the Telephone
B – This song is a lot of fun. I like the way it sounds. 7.5/10
M – Full sounding and modern pop punk version of the song, too bad it isn't all that great. 5/10
Originally by The Kinks – Waterloo Sunset (1967)
B – A strong mid-tempo song with a Def Leppard vibe. A real nice fit with the collection. 7/10
M – This is an awesome song, and not one I was familiar with. I went back and listened to the Kinks original, and I must say here Def Leppard made it their own, and while I prefer the original I like what they did here. 7.5/10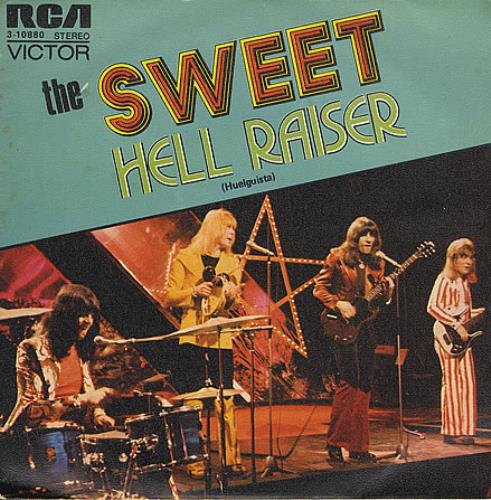 Originally by The Sweet – Hell Raiser (1973)
B– I really like this version. It's still Def Leppard but they are doing something a little different here. Great rock song. 8/10
M – It's Def Leppard doing Sweet. And doing Sweet exactly as Sweet did. They've done this before, with "Action". I liked that a lot more. Better song. Better performance. 4.5/10
Originally by Electric Light Orchestra – 10538 Overture (1972)
B – A fine song. Nothing bad here. 7/10
M – Just sounds like a messy version of the ELO song to me honestly – 3/10
Originally by Roxy Music – Street Life (1973)
B – Good strong rock n roll. Gives the boys a bit of a chance to cut loose. In this case Def Leppard is more successful when rocking out. 7.5/10
M – Speaking of messy sounding 3/10
Originally by David Bowie – Drive-In Saturday (1973)
B – This one is a little bit like wallpaper for me. Not my favourite version. 6/10
M – This is a pleasant song, something you would turn up loud while driving in the summertime. Not a hit but really nice. 6.5/10
Originally by Free – Little Bit of Love (1972)
B – I really like this song, and this version just lacks something that the original has. But it is pure Def Leppard so I guess they got in on that count. 6.5/10
M – They did pretty good mixing the blues sound of Free in with their own here 6.5/10
Originally by Mott the Hoople – The Golden Age of Rock n Roll (1974)
B – When they up the tempo, they up my interest. This song is getting the album back on track. 7/10
M – So many of the things I've said about earlier songs on the album apply here. Good tune, messy, close to the original, etc. 4.5/10
Originally by Badfinger –  No Matter What (1970)
B – Def Leppard is great at making songs sound like they are Def Leppard songs. 6.5/10
M – Maybe it's familiarity with the song? Maybe that just puts me in a good mood? Or maybe they truly just did better with this song?  7/10
Originally by John Kongos  – He's Gonna Step on You Again (1971)
B – This one lacks a certain energy for me. Perhaps I'm getting tired of the sameness of the album, but this one doesn't work for me. 5/10
M – And here there's no familiarity, and maybe that hurts? But it should just let me judge the quality, and I don't dig it much. Sure, it's got an original sound, but again it fells sloppy to me. Maybe they were going for that? 3.5/10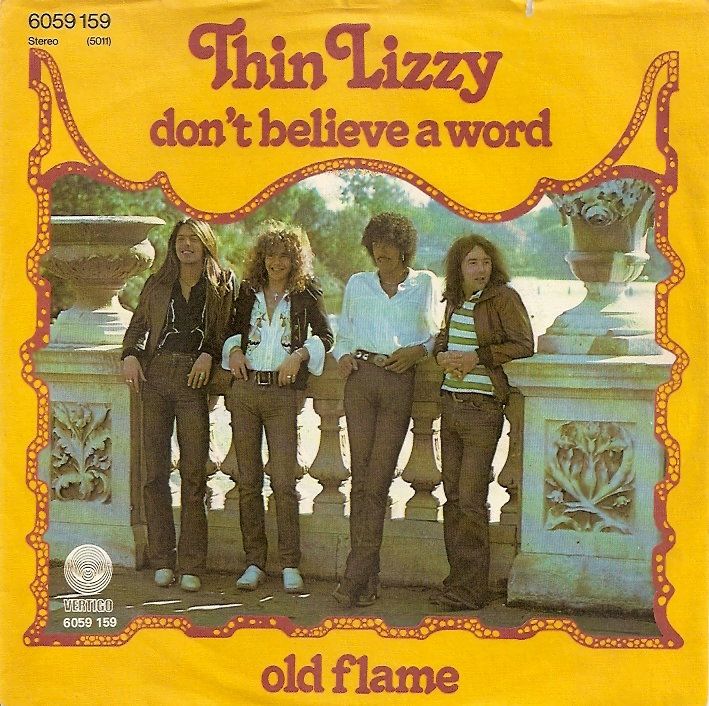 Originally by Thin Lizzy – Don't Believe a Word (1976)
B – A great song, with a little bit of a harder edge for Def Leppard. This one is a keeper. 8/10
M – I'm not saying that Thin Lizzy is for sure one of the greatest rock bands of all time, but if they're not I don't know who is. This is a fine tribute to them, capturing the song's spirit. 7/10
Originally by Faces – Stay with Me (1971)
B – Phil Collen does a great Rod Stewart impression and it really helps this track out. It's not that it's different from the original, it just sounds like a great version of the original. 8/10
M – The album sort of hinges on this song, and those chose one of the greatest of all time. The Small Faces original is a sure fire 10/10 song. That's a lot to live up to, but it's also a lot to work with, and they do a great job. Fantastic energy and Def Leppard guitarist Phil Collen does the singing, and almost out Rod Stewart's Rod Stewart. 9.5/10
Overall Thoughts:
B – I like Yeah! as an album because it is very targeted. The songs are generally all from the same era, and Def Leppard makes them their own. I would suggest that it would be a much better album with a few less songs, but overall it's a pretty strong outing that has some very listenable moments. 7/10
M – This is a strange album. You can see Def Leppard's influences; British bands with a blues and garage rock sound and some definite glam in others. I like that they mostly took songs that weren't as well known from bands that are very famous. It should be noted that this album is really pretty rare, and it also has several versions with different bonus tracks. Those include a live version of "No Matter What" and a great song I didn't know called "When I'm Dead And Gone", which would have been the album's 2nd best track.
"Winter Song", originally by a band called Lindisfarne, is another awesome track, as is the Queen cover "Dear Friends", sung by bassist Rick Allen in an excellent turn. Tell me if you're sensing a pattern here? Some of the best stuff for me was left off the main album, and that's what we're scoring, not the bonus material. And the main album stuff is, like Poison'd, wildly inconsistent. Also, much of that, like Poison'd, comes down to the singer. This isn't Joe Elliott's best work.
A lot of this feels uninspired, like no extra thought went into how to do the songs and they just played them. "Stay With Me" approaches the best of their own stuff, but nothing else does. And the Def Leppard production sheen on these songs usually doesn't feel right.  If I had to choose I guess I'd put this a little above Poison'd though, since nothing is as bad as Sexyback. 5.75/10
Tesla – Real to Reel (For the purposes of this blog we'll only be doing the widely released first album)
Originally by Deep Purple – Space Truckin' (1972)
B – It may not be that different, but it rocks. Jeff Keith gets to show off his voice a bit, and we get a bit of a drum solo in the middle. Excellent start. 8.5/10
M – And right out of the gate Tesla goes for the throat with their interpretation of one of, in my opinion, the 2 greatest rock songs ever. That's a lot to live up to, but as the song builds momentum from a slow start it turns into a great version of this classic. 8.5/10
Originally by The James Gang – Walk Away (1971)
B – A slower song, but Tesla sounds great doing it. I've been really impressed with their sound so far. 8/10
M – Tesla shows a different side on this one, covering this Joe Walsh written classic, and nails it. Perhaps better than the James Gang original, this is off to a good start. 9/10
Originally by The Guess Who – Hand Me Down World (1970)
B – This song is amazing and I really like this version. Totally ready to sing along with the chorus here. 9/10
M – No way Jeff Keith can match the vocals of the golden throated Burton Cummings, but with a harder edge to Tesla's version that's just fine. It's another terrific song. 8.5/10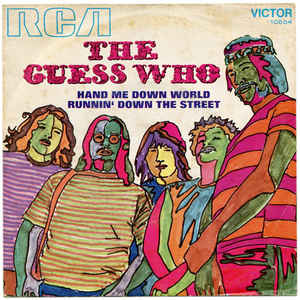 Originally by Thin Lizzy – Bad Reputation (1977)
B – This song rocks out. The guitar playing is great here. 8/10
M – How do you do Thin Lizzy right? Play it with heart and honesty. Not as good a song as the opening tracks of the album, but performed solidly. 6.5/10
Originally by Led Zeppelin – Thank You (1969)
B – You can see that some of the inspiration for "Love Song" came from this song. It's nice to hear a band do a Zeppelin cover that doesn't have a singer who is a dead ringer for Robert Plant singing. 7.5/10
M – Led Zeppelin is covered to death, and so is this song, but Tesla smartly doesn't try and just ape Zeppelin's style, instead smartly infusing it with some laid back southern charm. 7.5/10
Originally by The Beatles – I've Got a Feeling (1970)
B – I've got a feeling that I really like this album and this song is no exception. Another strong version. 8/10
M – Going from Zeppelin to The Beatles shows just how ambitious a covers project Tesla has going on. Luckily they have the talent to pull it off, both making their version of I've Got A Feeling a harder edged Beetles song and a bluesy Tesla power ballad. 9/10
Originally by  Robin Trower – Day of the Eagle (1974)
B – Another song that is heavy on the guitar. Mid-tempo, but their song choice has been generally impeccable. 7.5/10
M – This is the first song on the album I don't know, but it's a fine slice of rock n' roll. 7/10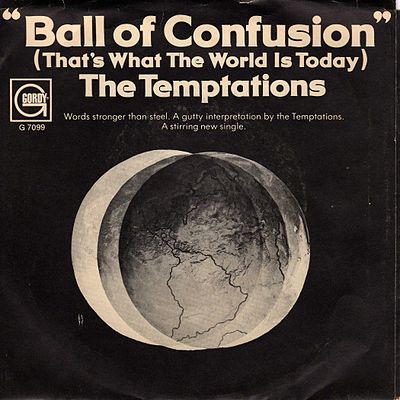 Originally by The Temptations -Ball of Confusion (1970)
B– A great sounding version. I really enjoy what they are bringing to most of these songs. 8.5/10
M – And now Motown, this album is all over the place, but it flows perfectly, and turns the Temptations psychedelic soul song into a psychedelic rocker. 7/10
Originally by UFO – Rock Bottom (1974)
B – Maybe my least favourite song on the album. But the guitar work is still amazing. And if this is as bad as it gets, then we're doing well. 7/10
M – This one is about the guitar playing, and Frank Hannon is spectacular. Take that Michael Schenker! 8.5/10
Originally by Uriah Heep – Stealin' (1973)
B – The winners just keep coming. 7.5/10
M – Solid performance. Jeff Keith sounds terrific here. 6.5/10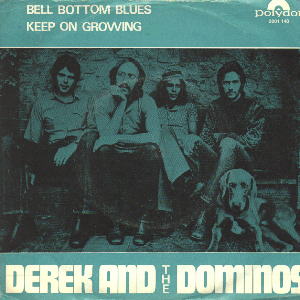 Originally by Derek and the Dominos – Bell Bottom Blues (1970)
B – You don't hear many Derek & the Dominoes covers. I think maybe I was hoping for a bit more here, but it's still a great song. 7.5/10
M – This one stretches the very limits of Tesla's abilities, and while they may try and do too much it's a respectful version of a very difficult, and very good song. 7.5/10
Originally by The Rolling Stones – Honky Tonk Woman (1969)
B – The Rolling Stones are a great band to cover. Tesla doesn't cover the territory any differently, but it still sounds good. 7.5/10
M – Tesla throws a little extra sleaze into the song, and that's quite a feat, but it doesn't close to what Mick and the boys did. 4.5/10
Originally by Traffic – Dear Mr. Fantasy (1967)
B – A really strong finish to a really strong album. 7.5/10
M – A passionate version of Dear Mr. Fantasy ends the album. It feels like they've left it all in the studio when they're done. 8/10
Overall Thoughts:
B – Real to Reel stands out to me because despite the fact a lot of these songs are covered regularly; they still sound really good with the Tesla sound. Tesla is an underrated band and they bring a great energy to all of the covers. Definitely one of the strongest cover albums I've ever listened to. 8.5/10
M – Overall Thoughts – It bears mentioning that 3 months after this album was released a 2nd covers album came out from Tesla, and in many ways you could put them together and have them be considered a double album. Reel to Reel Volume 2, while not as strong as Volume 1, had some great covers itself, including Tesla doing "All The Young Dudes", "Beer Drinkers and Hell Raisers", and a great interpretation of BTO's "Not Fragile", the best cut on that album.
I understand the argument many make, that covers albums aren't necessary and you might as well listen to the original. But what Tesla has done with these 2 diverse albums is pay tribute to a time when songs, and particularly guitars, were used to tell stories and reach you emotionally. Therefore the underrated Hannon is front & center, and he shines. There are lots of reasons Tesla never came close to the heights of Poison or Def Leppard. They weren't as marketable, charismatic, and songs weren't as catchy. But musically Tesla is just a great band; one of the best America has produced in the last 3 decades. The way they've done justice to all these great songs is proof of that. 8.0/10