One day later than usual, not due to business or mishap. I've been on vacation for over two weeks and honestly forgot what day it was. Anyway, New Year's Eve is just as good a time as any to check in.
Boxing Week (what Canada calls its post-Christmas clearance sales) was a tough week for holding to the plan. $7 James Bond blu-rays to finish out my set was the temptation of the week. But I held firm. I had a laugh when I mentioned this to my wife. She said "well, your project is almost done anyway." "I've only just started, it goes til November." "Really, I thought you were doing 8 weeks or something?" Early days still.
I received very little for Christmas, which was good in the grand scheme. My wife got me a couple of movies and a couple of books and that was about the size of it.
The accumulation was fed this year by two amazing comic geek experiences – Calgary Comic and Entertainment Expo and San Diego Comic Con. I bought a ton of books, toys, statues and assorted Stuff at those shows. And the usual giveaways. Sure the traditional SDCC shoulder bag will help if I cosplay as Sheldon Cooper, but otherwise what the heck does one do with it? The Mythbusters bag that Brett brought me back a few years ago decorates the garage at present.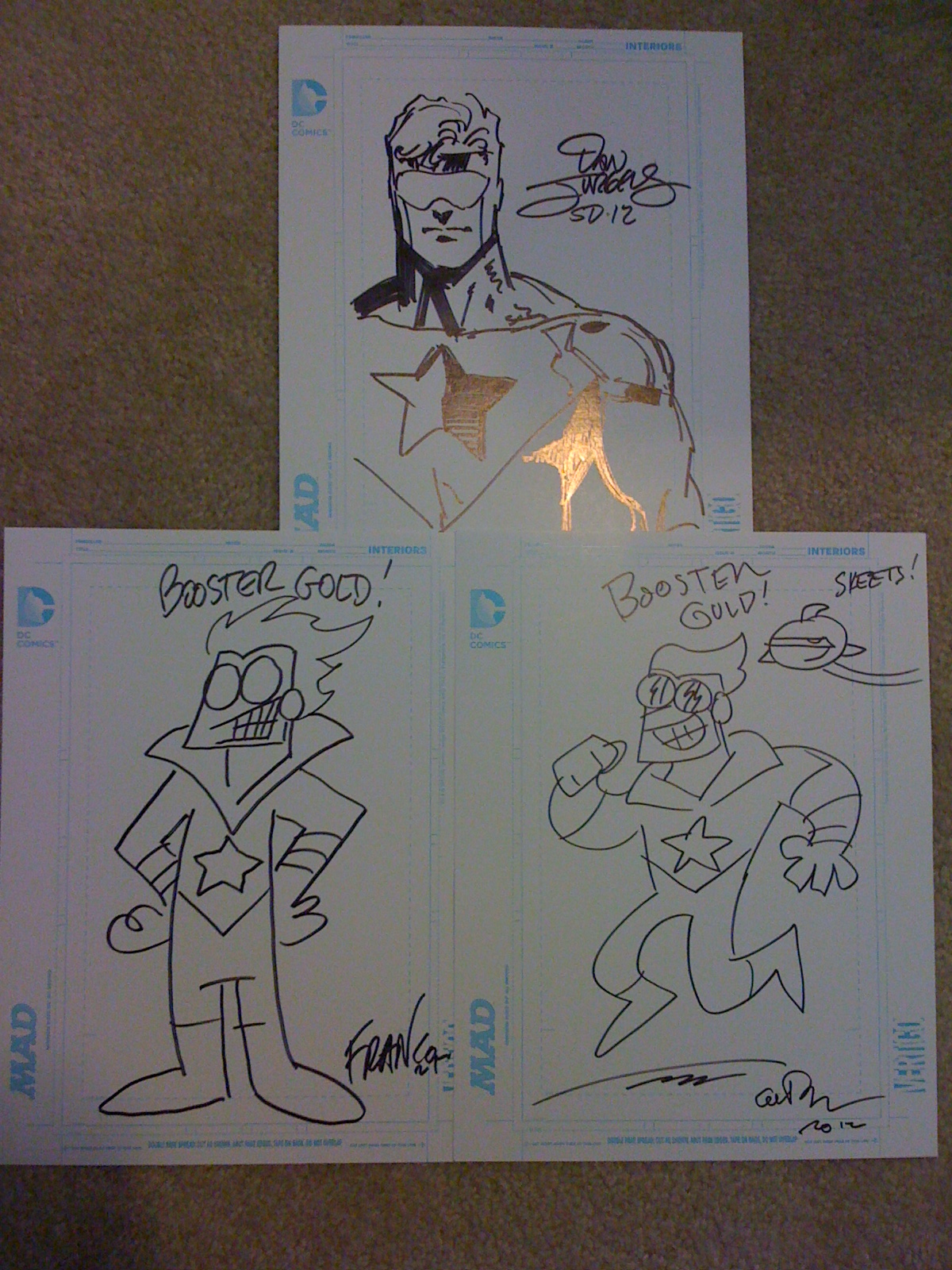 As I look at the photo I took after SDCC, I am struck by how this Stuff is just Stuff. Except for the bits that have wonderful memories attached. The sketches in particular. These were all done for me while I chatted with the creators. The two cartoony Booster Gold sketches are by Art and Franco of Tiny Titans fame. The other is by Booster creator Dan Jurgens. Chatting with him while he sketched about Booster, the New 52 and Booster's flight ring was amazing.
The sketch by Nicola Scott of Earth 2's Alan Scott is also a fond SDCC memory. Nicola kept stopping her sketch because she was too interested in our discussion of Earth 2 and Dr Fate. This sketch will also remind me that I met (and was terribly rude to) Scott Lobdell while it was being done. I rather pointedly demanded he give us a great run on  Superman.
I know the stated goal of these blogs was to talk about the pieces going out, but I find that I keep coming back to the pieces that are staying. And so it goes.
The selling part of this project is, of course, not working. The reality of the accumulation is that most of this stuff is either too heavy to be cost-effective on eBay or just has no retained value. Abandoning the idea that I am going to recoup much from this, I will move to the full on purge. Putting aside what is still planned for the fall comic convention, other things will head to the recycling bins right away. I think the discovery that it would cost me $25 to donate 30 comics to Comics For Heroes took the wind out of my sails (I just donated the money directly in the end). I need to refocus and come up with a new plan. I did reach my goal of over 450 of the Things catalogued, now I just need to get them out of the blasted house.