He co-created Firestorm, Ms Marvel, Punisher, Phil Urich and so many more characters. Oh, and he killed Gwen Stacey. But to Keith, Gerry Conway always be the co-creator of Steel: The Indestructible Man.
Keith, Brett and Mo sit down for an hour with a living legend of comics, Gerry Conway.
Looking back at the DC Explosion (then Implosion), Gerry shares with us what made that period of DC so creative and innovative. In the space of a few months, Gerry had created Steel, Firestorm and Vixen.
With almost ten years of stories in Justice League, Gerry is one of the most prolific writers of that team in history. We get stories of that era ranging from how fans reacted to Crisis on Infinite Earths to why the team was revamped into the Justice League Detroit.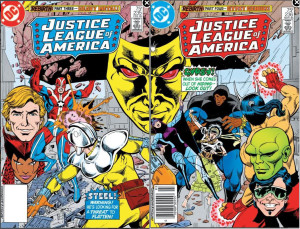 Gerry also shares stories of his early career at Marvel and DC including the hilarious story of the first time Gerry's work hit Stan Lee's desk.
Podcast: Download (Duration: 59:58 — 27.8MB) | Embed