It's a Kickstarter spotlight as Keith and Chris sit down with cartoonist Matthew Bogart to talk about his campaign for the print edition of The Chairs' Hiatus.
"Mary and Nel were known for being close. Throughout the years the two of them zigzagged the country as the rock duo "The Chairs'" they never spent more than a day or two apart.

"That is until Mary mysteriously appears in a new city having given up her music, fame, and friends. She wants nothing more than to work her lousy job and be left alone, but the two people who just showed up on her doorstep are determined to make sure won't happen."
Matthew tells the story of how Chairs' evolved from a serialized story on his website to the print hardcover backers will have in their hands in a few short months.
We get some hard numbers and behind-the-scenes info from Matthew's experience with Comixology Submit and the Submit Bundle.
And we talk about how bootleg Back to the Future memorabilia inspired some of the more interesting incentives Matthew is offering with the Kickstarter.
We skip news and WeViews this week, but will still give a nod to news sponsor COMICOSITY. Their new series Game Changers is a look at strong female protagonists in comics and The Chairs Hiatus' definitely fits the bill.
So sit back with a fine beverage, meet an up-and-coming creator, learn a bit about self-publishing, and laugh at the usual digressions Keith and Chris are famous for. We bet by the halfway point you'll be picking out incentive levels on Matthew's Kickstarter.
Click here to support Matthew's Kickstarter until August 20, 2014.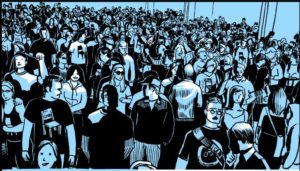 Or purchase The Chairs Hiatus' digitally on Comixology (DRM-Free included).
And check out Matthew's own website to read his new series "Oh, It's The End of the World"
Three great ways to subscribe to We Talk Comics now, through iTunes or for those of you looking for an alternative we're now available on Stitcher Radio or on the versatile TuneIn.
And join the We Talk Conversation on Twitter @wetalkpodcasts and now on Facebook. 
Podcast: Download (Duration: 1:09:21 — 31.8MB) | Embed