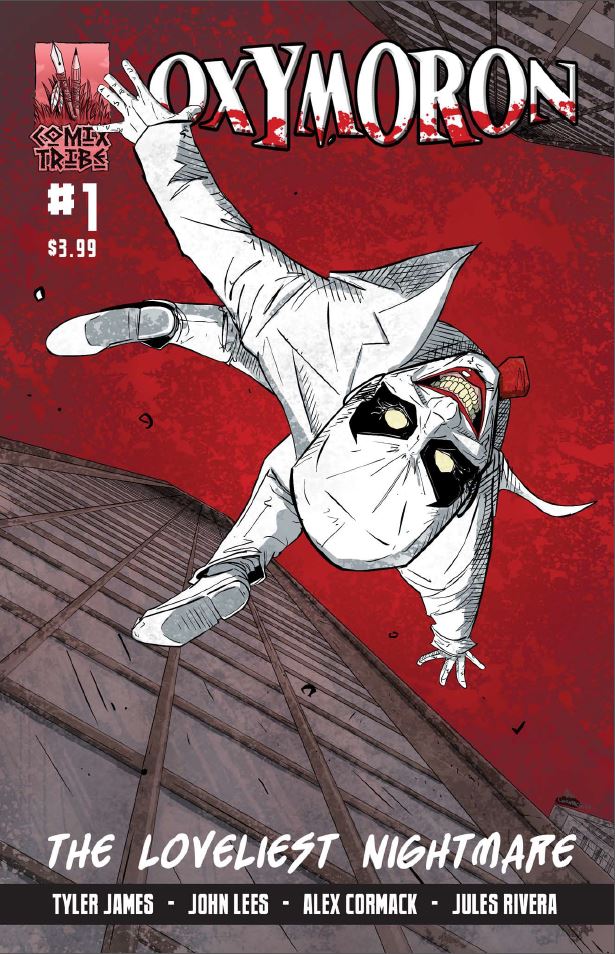 Keith & Mo work out the complex time zone math needed to finally get guests from both Massachusetts and Scotland on the show at the same time!
The first issue of ComixTribe's new title Oxymoron: The Loveliest Nightmare has just hit shelves and digital and the guys are joined by writer John Lees and artist Alex Cormack to talk about the mini-series.
Oxymoron began as a Joker analogue in The Red Ten from ComixTribe and was an immediate hit with fans. This led to a successful Kickstarter, an appearance in The Red Ten #0 Free Comic Book Day issue, and now this mini-series. Not bad for a character who didn't live through his first appearance!
John and Alex talk about the road that brought them to Oxymoron and working with ComixTribe. What secrets does John know of The Red Ten universe? And is Alex Cormack truly an "Alex Cormack-type" artist?
John talks about his previous works at ComixTribe, The Standard and And Then Emily Was Gone, and the guys and Alex give him a hand generating ideas for sequels and prequels (whether John likes it or not).
Along the way, there are the usual divergences into comic talk, Fantastic Four talk, and John's close relationship with Scottish treasure Susan Boyle.
With Canadian, Danish-Canadian, Boston, and Scottish accents, we have to warn middle America – good luck with this one! Maybe turn on the subtitles (subtitles not available in some regions).
Oxymoron is available in stores and on Comixology now.
Note: This episode contains a discussion about gun violence in the United States that was recorded prior to the tragic events in Virginia.
Three great ways to subscribe to We Talk Comics now.  Try us on iTunes. For those of you looking for an alternative we're now available on Stitcher Radio. You can also check the show out on the versatile TuneIn radio.
And join the We Talk Conversation on Twitter @wetalkpodcasts. Plus give us a like now on Facebook and visit our show sponsor 

COMIC

OSITY

 
And check out Panel One to keep up to date about Calgary Comic creators and their friends
Podcast: Download (Duration: 1:23:35 — 38.3MB) | Embed