Brett and Chris are heading up the road to the Edmonton Expo, and they returned with this panel. Joining Brett and Chris on stage is artist Marcus To (The Hacktivist), and publisher of Renegade Arts Entertainment, Alexander Finbow. Alexander replaces Kurtis Wiebe (Rat Queens, Pisces) who was supposed to appear on the panel, but well, he wound up crashing another panel instead.
The guys talk licensed products, anime or manga, whichever you prefer… There is a bit of tv talk, some movie talk, and even talk about comics! Who would have guessed?
And because we can, here is the awesome Golden Age Sandman done by Vic Malhotra (who has nothing to do with this panel) for Brett.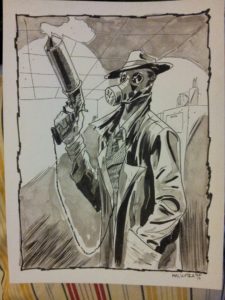 By the way, if you notice a clicking sound throughout the podcast, it's because Marcus was clicking his pen and then Chris got into the act too.
Three great ways to subscribe to We Talk Comics now. Try us on iTunes. For those of you looking for an alternative we're now available on Stitcher Radio. You can also check the show out on the versatile TuneIn radio.
And join the We Talk Conversation on Twitter @wetalkpodcasts. Plus give us a like now on Facebook and visit our show sponsor COMICOSITY
And check out Panel One to keep up to date about Calgary Comic creators and their friends
Podcast: Download (Duration: 37:12 — 17.1MB) | Embed